Fangs of the Forest: The Myriad Forms and Functions of Toothed Fungi
Discover the world of toothed fungi in New Zealand's forests, as we delve into their unique forms.
September 15, 2020
In nature's grand tapestry, mushrooms, those peculiar denizens of the forest floor, have a way of kindling the imagination in ways even the most outlandish science fiction might struggle to match. They come in hues and forms that seem to defy reason, as if the laws of nature were taking a respite from their usual duties.
Fungi, however, do not merely adhere to the toadstool archetype.
A subset of these fascinating organisms has evolved an even more menacing aspect, trading gills for tooth-like protrusions. But fear not, these fungal fangs are not for biting!
Let us embark on a journey to explore some of the popular edible toothed fungi that grace the markets of the world, as well as some of the rarer, endemic species found in the lush forests of New Zealand.
Hydnum
My own introduction to the toothed fungi occurred near Te Anau and the Kepler Track, where I encountered a webcap devoid of gills.
Beneath the fallen branches and golden palm fronds of Abel Tasman, I discovered the white Hydnum crocidens, a species that had suspended beneath its cap a hundred tiny icicle-like teeth reminiscent of stalactites.
In the Hydnum genus, there is a species known as the "sweet tooth mushroom" or the "wood hedgehog," the Hydnum repandum, which is a choice edible in some parts of the world.
Hailing from the ground and wood, most Hydnum species are safe to consume, with the H. repandum finding a place in the local markets of British Columbia, Canada, Mexico, and Europe.
---
As we venture deeper into the woods of New Zealand, we encounter the endemic Hydnum crocidens, which comes in a burnt red variety, the Hydnum mcnabbianum. These toothed fungi share their habitat with the native mānuka.
Beenak Long Tooth
Another rare find is the Beenakia dacostae or "Beenak Long Tooth," a species that has earned a place on the IUCN Red List due to its near-threatened conservation status.
This toothed fungus is found on tree fern trunks and forest litter in the wet forests of Australia, Tasmania, and New Zealand.
Sarcodon
The Sarcodon genus is another group of toothed fungi with a presence in New Zealand. A bitter-tasting fungus, it is used in Chinese cuisine and medicine for its supposed health benefits, such as reducing cholesterol levels and promoting muscle relaxation and blood circulation.
There is even a recipe for a health beverage that uses 250g of dried Sarcodon aspratus as the main ingredient paired with Licorice root (20g), ginkgo (200g), persimmon leaf (50g), elm tree (50g), and water (25L) – put in a pressure kettle and heat for 4 hours at 180deg Celcius.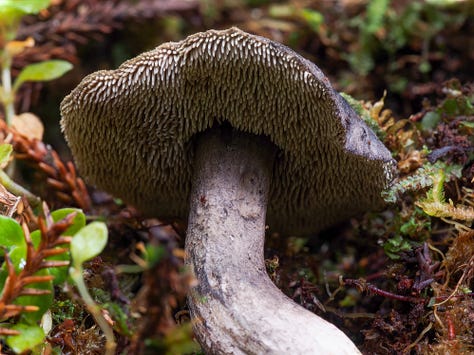 Pseudohydnum
As we explore further off the beaten path, we encounter the Pseudohydnum totarae or "cat's tongue fungus" or "toothed jelly fungus," a bland-tasting edible that can be candied or marinated.
This rubbery tooth fungus, while not a close relative of the wood hedgehog or bearded tooth, has a unique ecological purpose, as its gel-like interior acts as a water reservoir, allowing the fungus to drop spores even in times of drought.
While this is by no means an exhaustive list of toothed fungi in New Zealand, it serves as a testament to the wonder and diversity of the fungal world. As we continue to uncover more species, we add to the rich tapestry of our understanding of these enigmatic organisms. And so, with each foray into the wild, we find ourselves one step closer to unraveling the secrets that these peculiar life forms hold.
Thanks for reading Myconeer! Subscribe for free to receive new posts and support my work.