Fungal Wonders in Fiordland: Discovering the Diverse Mycological Landscape
Embark on a captivating journey through the Fiordlands of New Zealand and uncover the diverse and enchanting world of fungi that thrives beneath the forest canopy.
July 2020 - Te Anau, NZ
As the rain ceases and sunlight seeps through the clouds, the forest stirs to life, revealing its kaleidoscope of emerald hues. I wander the Kepler Track, camera in hand, awestruck by the intricate vestiges of ancient Gondwanan growth—a landscape so alien and unfamiliar, a lifetime would barely suffice to comprehend its wonders.
The crisp air nips at my face, and my breath lingers before me like the clouds that shroud the distant mountain peaks beyond Lake Te Anau. Sunbeams filter through the canopy of Nothofagus beech and palm, while high above, leaves shed their burden of water in unexpected downpours.
Seated upon a moss-draped tree stump, I take in the vibrant scene around me. Towering trunks reach for the heavens, their broad fronds unfurling like immense fans. Here, in this serene alcove, I find respite.
In this primordial sanctuary, the forest floor remains untouched by human hands, its ancient fingerprint preserved. A lush carpet of moss cloaks the terrain, with the decayed forms of fallen trees nestled beneath. A closer look reveals a tangled web of roots, trunks, and branches interwoven with sphagnum, bladderworts, sundews, sedges, and rushes.
The perpetual dampness of this temperate climate nurtures an abundance of fungal life. Roots snake their way beneath the path, and split trunks scatter the ground like splintered wood. The forest is alive, consuming itself and, in doing so, achieving immortality.
THIS FOREST EATS ITSELF SLOWLY AND LIVES FOREVER. - Poisonwood Bible
I rise from my mossy perch and squint to see the path ahead, but am suddenly drawn to a peculiar sight: a massive, spongy mushroom resembling a crème brûlée. Intrigued, I approach this specimen, larger than any I have ever encountered before.
Austroboletus novae-zelandiae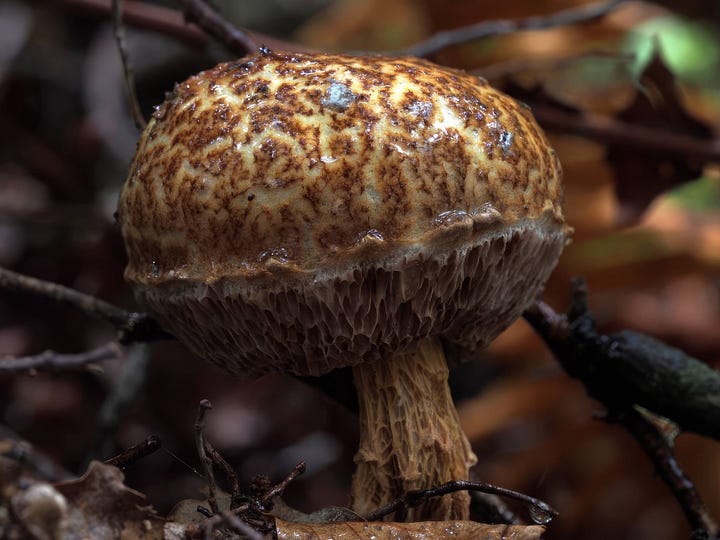 The beige stalk of the mushroom appears as if carved with a dull pocketknife, its rough grooves unsmoothed. This veined stalk extends upward, merging with the webbed cap above. The mushroom's top is tawny and ochre, scorched as if by a blowtorch.
Underneath, the cap houses a spongy layer riddled with minute, spore-bearing tunnels. These tubes, perpendicular to the forest floor, allow spores to fall and provide shelter for insects to feast and disperse them. The Austroboletus novae-zelandiae typically grows up to 120mm tall and 80mm wide.
As I continue my journey, I encounter a vast array of fungi, their vibrant colors and peculiar forms adorning the forest floor. Each one contributes its own unique character to this mesmerizing landscape—a testament to the enduring beauty and mystery of the natural world.
I follow the trail as it meanders through the ancient forest, and come across uprooted trees that resemble gnarled hands clawing at the earth. These twisted appendages form walls that sporadically line the path, their roots intertwined with vines that secure patches of clay and stone. Above the crown ferns, a fuzzy patch clings to a decaying tree stump—a relative of the Lion's Mane mushroom known to the Māori as pekepeke-kiore.
Hericium novae-zelandiae
This native wood decay mushroom was traditionally consumed by the indigenous Māori people. Not only is the species edible and medicinal, but it also tastes like crab. When cooked with barbecue sauce, its texture becomes an excellent substitute for pulled pork.
As I approach Rainbow Reach, the trail leads me past a drawbridge that spans the rushing Waiau River. I begin to zigzag up a series of switchbacks towards a track that runs along the cliffside, sculpted by the river's relentless force. Signs warn against venturing too close to the eroding edge. Before reaching the top, I am greeted by a cluster of thumb-sized Calostoma rodwayi mushrooms.
Calostoma rodwayi
Also known as "pretty mouth" or "hotlips," these fungi boast brightly colored, raised openings that resemble lips. The genus name Calostoma is derived from the Greek kallos, meaning "beauty," and stoma (στóμα), meaning "mouth." Several species are colloquially referred to as "prettymouths."
Research in the 2000s revealed that the Calostoma genus is evolutionarily related to bolete mushrooms and is believed to have diverged between 52 and 115 million years ago. In Korea, they are called Yongi, or "red cheeks."
Although Calostoma species are generally not considered edible, a 2009 study reported that children in the Mexican community of Tenango de Doria once collected and consumed the young fruit bodies of Calostoma cinnabarinum like tidbits, though this tradition has since waned. Locals referred to the immature fungi as "yemitas."
My journey takes me past giant silver fern fronds that litter the forest floor near the track. The Māori would use them to guide their path at night, laying the silver-side up to catch the moonlight. By day, the berms are carpeted in limelight moss and crown ferns, stretching as far as the eye can see.
Gallacea scleroderma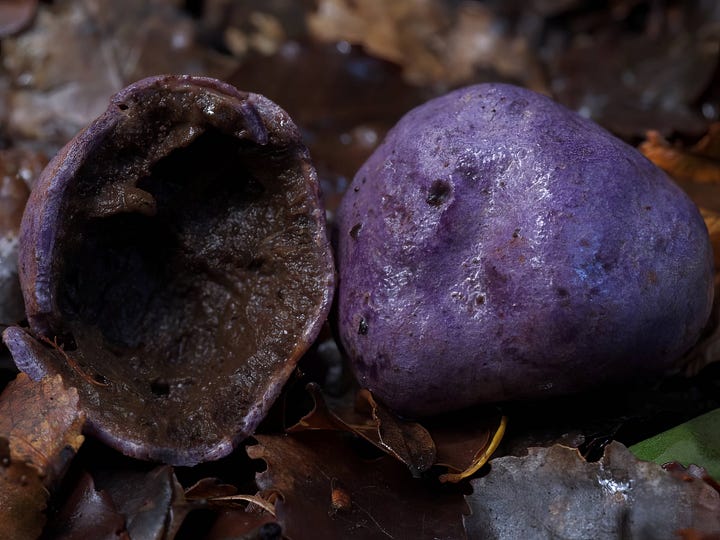 These brilliant purple fungi are mycorrhizal with beech trees and can grow up to 100mm in diameter. Their vibrant hues are thought to mimic the appearance of berries to attract birds, which help disperse their spores.
As I ponder this, a curious South Island Tomtit hops into view, cocking its head inquisitively. It is unclear whether the bird is drawn to the Gallacea or the insects I've disturbed as I walk.
The fungi I encounter on this journey through the Fiordlands represent a mere fraction of the astonishing diversity that thrives beneath the canopy. Each species offers a unique glimpse into the complex, interconnected world that has evolved and endured over countless millennia.
Mycena interrupta
Also known as the Pixie's Parasol, this Gondwanan mushroom boasts caps that range from 0.8 to 2 cm. The brilliant cyan blue hue of these fungi is mesmerizing as they sprout from a rotting beech limb. One cap forms a spherical shape, its striations resembling a pupil and iris. The effect is uncanny, as if an eye is watching me from within the verdant forest.
As I approach Brod Bay, I come across an expanse of moss that appears to be the greenest part of the entire track. Amidst this lush landscape, the red and orange caps of Hypholoma mushrooms make an appearance.
Hypholoma australianum
In New Zealand, these mushrooms differ from their Australian counterparts but not enough to warrant a separate name. The Hypholoma mushrooms found here can be distinguished from other genera by their consistently dark brownish-purple spore print, which is a paler brown in other genera.
The fungi I've discovered in the Fiordlands during the winter months represent just a tiny fraction of the incredible array that lay hidden on the forest floor. Each species, with its unique form, color, and purpose, contributes to the complex tapestry of life in this ancient and mysterious ecosystem.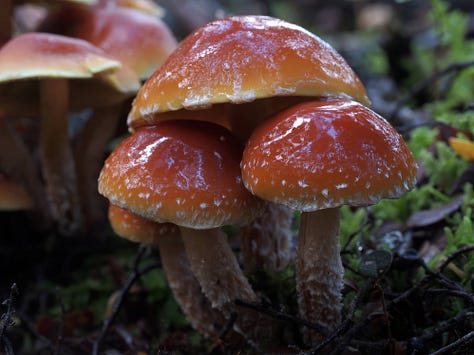 The Fiordlands offer an unparalleled opportunity to connect with the natural world and gain a deeper understanding of the delicate balance that sustains all life on our planet.
In these moments of quiet reflection, it becomes clear that we, as humans, have a responsibility to protect and preserve these ecosystems—not only for the countless species that call them home but also for ourselves and future generations. Our connection to these ancient landscapes serves as a powerful reminder of the interconnectedness of all life, and the importance of fostering a harmonious coexistence with the natural world.
Thanks for reading Myconeer! Subscribe for free to receive new posts and support my work.