Fungi Foray MycoBlitz Event at Bukit Kiara
With the help of FoBK (Friends of Bukit Kiara), we came together to host Kuala Lumpur's first iNaturalist MycoBlitz Event this past weekend.
This past weekend, with the help of FoBK (Friends of Bukit Kiara), we came together to host Kuala Lumpur's first iNaturalist MycoBlitz Event. The day before, I presented a 2-hour webinar on Zoom, now on YouTube. 
Brief History of Bukit Kiara
The history of Bukit Kiara can be traced back to the early 19th century when it was part of a vast area of tropical rainforest. Over the years, the land was gradually cleared for agriculture and development, and by the mid-20th century, it had become a rubber plantation.
In the 1960s, Bukit Kiara was designated as a green lung for the city, and it became a popular recreational area for the people of Kuala Lumpur. In the decades that followed, it was developed into a park with jogging tracks, cycling paths, picnic areas, and other facilities for outdoor activities.
Today, Bukit Kiara is an important recreational area and a popular destination for hikers, joggers, cyclists, and nature lovers. Despite its proximity to the city center, it remains a green oasis, providing a respite from the hustle and bustle of urban life.
When I first came to KL, Bukit Kiara was the first place I began mushroom hunting. I would meander around the park solo. This would change, and I'd go with a couple of other mycophiles. Eventually, these group outings would become larger, leading up to the MycoBlitz Event.
Foray Day 1
The foray was around 5 hours, and the turnout was great! We had over 15 citizen scientists unite, photograph, make over 100 observations and record over 35 species unique to Bukit Kiara.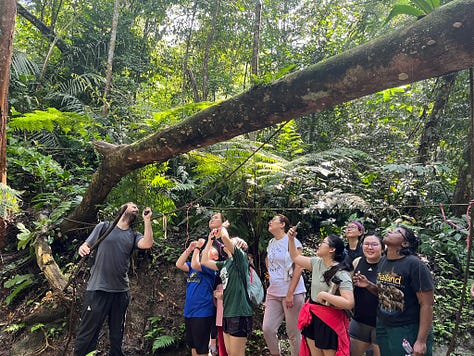 With our observational powers combined, we started on the tarmac and slowly went down to the stream. Along the way, we came across blue-staining Boletinellus, red-staining Earthballs, a bright orange Hygrocybe, numerous bracket fungi, Pisolithus, Luminous Porecaps, fluorescent Hypholoma, and other species.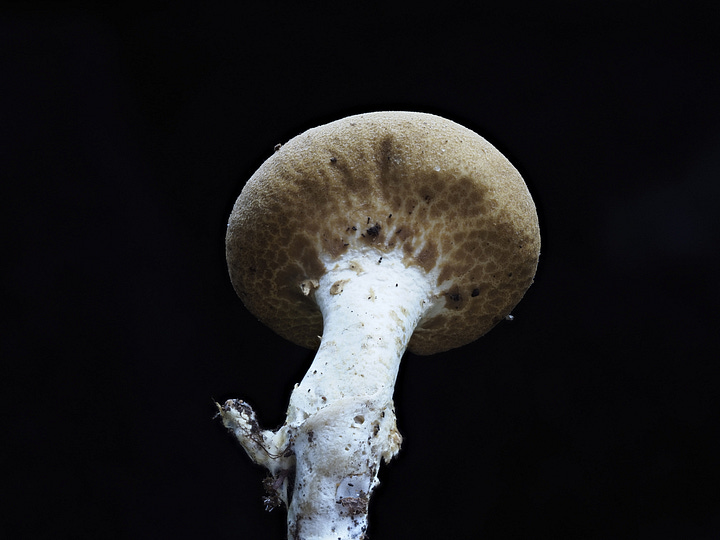 Even some young kids joined in the fun! I find their height (closer to the ground with keener eyesight) and imagination make for the best mushroom-hunting companions.
A little girl even came up with a common name for the Cup Fungus (Cookeina sp.) that I'll now use, "Plunger Fungus."
Foray Day 2
The next day I met with more mycophiles, and we immediately got word that a stinkhorn was growing. We rushed to witness the unveiling (which took about 30 minutes).
Everyone congregated around the mushroom, phones ready to make a timelapse vid. The veil originally came out a white color and, within an hour after fully unveiling, turned yellow, indicative of Phallus lutescens. 
One of the guys there brought me to a spot further back up the road and showed me a fallen tree, and at the base, another eight eggs were embedded in the side. The next day videos circulated online, and two hatched around the same time. 
The group and I made our way up the hill where others were photographing another interesting blue species, Entoloma cf. burkilliae. Fungi-mania has taken hold at Kiara, and more and more passersby stopped to observe the mushrooms.
We slowly made our way along other paths less taken, and I spotted a familiar sight. Barely detectable yellow dots at the base of a tree. Growing from bark, these small Mycena brunneisetosa have fuzzy hairs on the cap when observed through my macro lens. They remind me of when you rub a balloon against your head.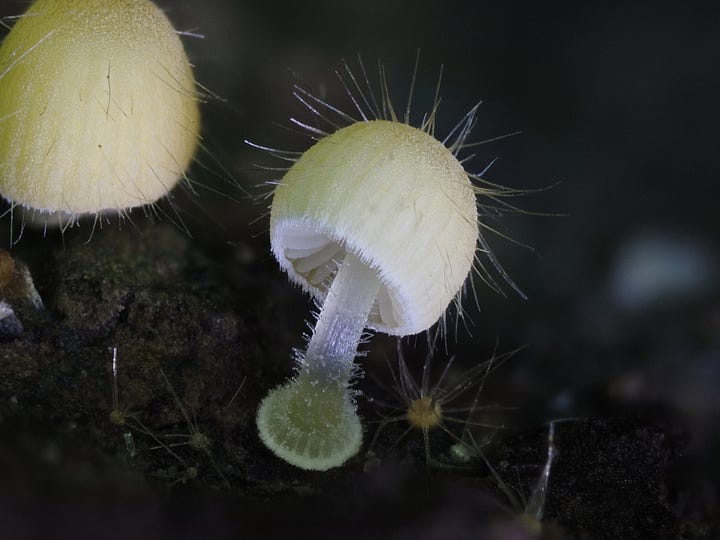 It only took an hour for the mushrooms to grow taller, revealing a fuzzy translucent stipe with a lemon-yellow base. 
To cap off the foray, we found a couple of stinkcages, Clathrus treubii. Another bucket-list mushroom for me. The smell was strong and attracted many flies and beetles, much like the stinkhorn we witnessed earlier that day.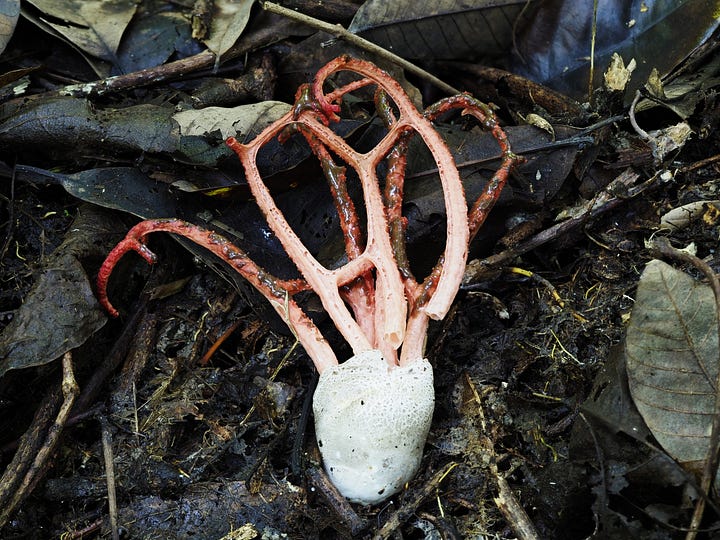 The trail was supposed to be a shortcut, but we spent more time along this track, drawn to black Oysterling-like growths on rotting wood that, when observed from underneath, displayed an amazing, creepy black porous pattern.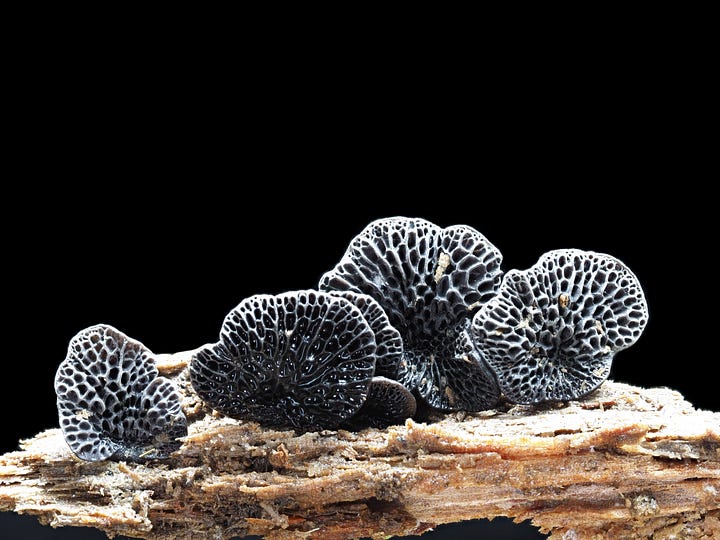 It's amazing what nature provides, even after only a day. You can walk the same path over and over again and still uncover new species. While the MycoBlitz Event was the first for Bukit Kiara, I hope with the enthusiasm of other mycophiles and the growing popularity of citizen science, more fungi events can take place in the future!
While only a small portion of Bukit Kiara was covered (very slowly), the diversity of species was great. And with everyone's keen observation skills, it made for even more discoveries.
Thanks for reading Myconeer! Subscribe for free to receive new posts and support my work.