Last Weekend's Forays in Kuala Lumpur
A few days scanning the forest floor out at Bukit Kiara Hill and Bukit Gasing provided for some interesting finds and first records in Malaysia.
I revisited Kiara Hill and hiked up to the Angkor Wat tree, a popular spot where snake-like roots consume large boulders. A nearly all uphill climb, I was drenched with sweat when I reached my destination, and soon after, it started spitting rain.
I look over and see a cave to take shelter and wait it out. Other insects get the same idea, and now I'm sharing my nook with mosquitos and bees. Forcing me out, I make my way down the hill, and suddenly small waterfalls begin to form, and streams spill over the already-flooded track.
The canopy provides enough cover, and I'm torn between getting out of the bush and making it home to a hot shower and cozy bed or sticking around and finding more species to photograph.
Given that these are my last few days in KL before flying out to Phuket, I wanted to make the most of it.
Below are some highlights from three forays - one at Kiara Hill and two at Bukit Gasing.
Bukit Kiara Hill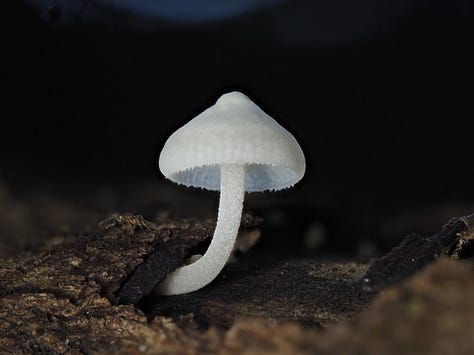 I found more Luminous Porecaps right from the get-go and they seem to be the most prevalent bioluminescent species here. I took some specimens home to photograph in the dark to catch the glow.
Twigs on the side of the track were covered in fuzzy orange mycelium. The last time I came across this was when I found Crocinoboletus in Penang. The cotton-like growths reminded me of flames.
Up behind Angkor Wat Tree, the ground was covered in orange discs. Heaps of Aleuria aurantia were found, and I think the common name "orange peel fungus" is very fitting.
Young Trichaleurina javanica (edible) was growing from a log, and this time I cut it in half, revealing the gelatinous interior, much like that of a grape.
Along the side of the track the undersides of what I assume to be a Boletinellus species displayed a bright yellow and intricate web-like / branchial pattern somewhat stuck between a pore and gill formation.
Bukit Gasing 
I visited Bukit Gasing for the first time with some fellow mycographers (mushroom photographers) and found interesting mushroom species and myxomycetes (slime molds).
Hygrocybe sp. / Waxcaps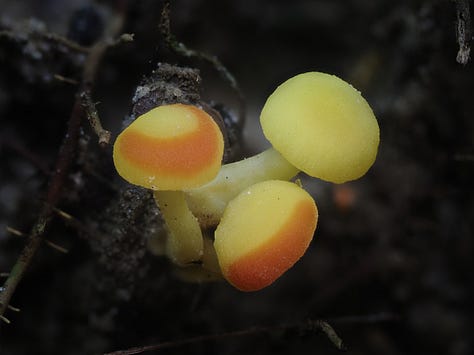 On a slope, hundreds of orange and yellow waxcaps pop out from the loamy soil. Some are even seen changing color from bright yellow to solid orange.
A pair of vivid red Hygrocybe miniata-like mushrooms, nearly undetectable, stands only a couple of centimeters tall.
While the yellows, oranges, and reds dotted this part of Gasing, one of the most exciting finds was a lone indigo blue Gerronema species found in a pile of branches off the side of the track.
Gerronema sp.
The color was unreal, unlike any other mushroom I've encountered. The shape immediately made me think of Gerronema, as I'd come across the yellow variety in Langkawi.
I received a message from a Chilean mycologist about a paper published titled "A new Gerronema species with striking colors from China," where Gerronema indigoticum was discovered. I believe this is a first record of this species in Malaysia.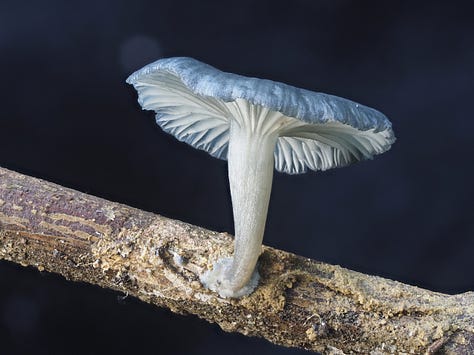 Lycoperdon sp.
The same friend of mine that spotted an early-stage Lycoperdon species at Taman Tugu found this family of three growing together (she's got the knack), and when they're this young, they appear like small pufferfish.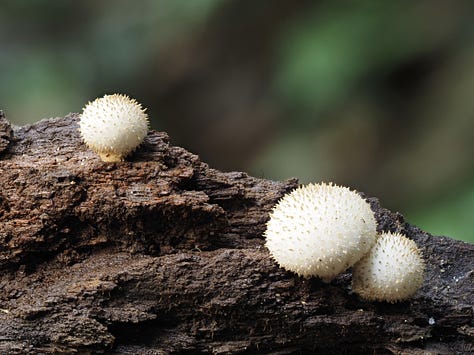 Pseudohydnum gelatinosum
Climbing down steep steps back to the entrance, I couldn't believe what I had found. Like seeing an old friend, a lone "Cat's Tongue Fungus" was growing under a fern.
I'd find these all the time in New Zealand, but this ended up being the first recorded Pseudohydnum made on iNaturalist in Malaysia. Also, checking the checklist of species in the country, Pseudohydnum isn't recorded either.
Inflatostereum glabrum
A friend invited me out to Bukit Gasing specifically to look at these mushrooms. I have had trouble locking down an ID as I haven't seen anything like this before.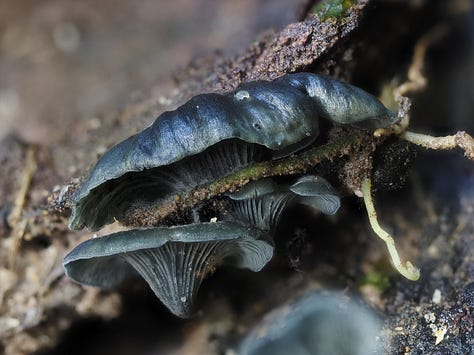 The color is similar (blue-green) to the Gerronema species. They start translucent and then turn blue-green and blacken.
Myxomycetes (Slime molds)
I usually don't take photos of slime molds, given their tiny size and how much time goes into setting up a shot. But these were too unique to pass up.
Special thanks to Alison Pollack for providing IDs.
Ceratiomyxa morchella
Physarum viride
Ceratiomyxa fruticulosa
Thanks for reading Myconeer! Subscribe for free to receive new posts and support my work.