Who Needs Fireflies When You Can Have a Jar of Luminous Porecaps?
Brightly glowing F. manipularis mushrooms = nature's nightlight.
Hey all! It's been a while since my last post. There's a lot on the backburner right now, and I'm excited to share some of the unique fungi finds over these past few weeks here in Kuala Lumpur, but today I wanted to share a favorite mushroom of mine, the "Luminous Porecap." 
In a previous post, I shared Filoboletus manipularis glowing, but this time was a bit different. By doing some tinkering, I was able to alter the morphology and luminosity and even create a nightlight.
I went to Taman Tugu with a friend yesterday, and while the foray was cut short because of pouring rain, I did manage to find small baby F. manipularis growing on a rotting log.
I put some in a container with a little water at the bottom and kept it overnight in a drawer. What my wife doesn't know won't kill her! Although, she has been a bit paranoid, given that The Last of Us on HBO just came out. She already thinks the spores have infected my brain! (more on Ophiocordyceps in a later post).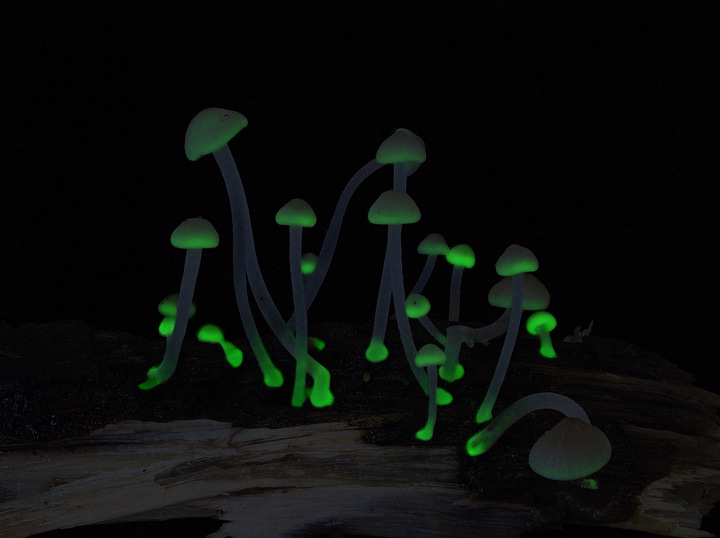 The next morning they grew tall and spindly, like what you get when cultivating Enoki indoors (when left outdoors to grow, they're shorter, have fatter caps, and are orange) versus what you'd see in the supermarket (white needle mushrooms with small caps). 
The once-short mushrooms grew a few centimeters, and I took a few long-exposure shots to capture the glow.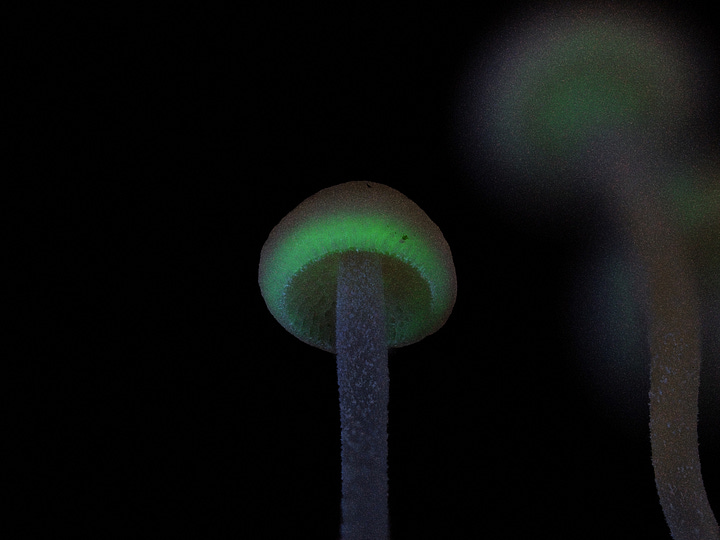 I put them in a jar and had my own nightlight. The brightness was enough to see them with the naked eye, and the glass from the jar helped magnify the brightness a bit.
It's been raining here for the past few days so I'm hoping to find other kinds of bioluminescent mushrooms out there. Malaysia is home to the most species that glow at around 25 (out of ~112 in the world).
In the past, I've written about bioluminescent mushrooms for The Mushroom. You can read the piece on their site: A Luminous Pursuit.
Thanks for reading! Till next time.
Thanks for reading Myconeer! Subscribe for free to receive new posts and support my work.